Sunbelt Baseball League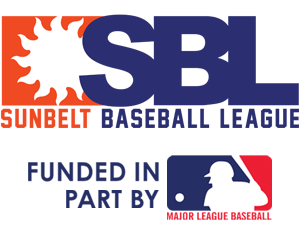 The Brookhaven Bucks compete in the Sunbelt Baseball League, Georgia's premier collegiate summer wooden-bat baseball league. The mission of the Sunbelt Baseball League is to provide a first-class collegiate summer program dedicated to helping young college athletes achieve their dreams of playing at the professional level. Based out of the metro Atlanta area, this wood bat league showcases some of the top talent in the nation while providing exciting family entertainment to the community. In addition to Brookhaven, the Sunbelt League has teams in Alpharetta, Norcross, Lawrenceville, Marietta and Suwanee. Major League Baseball, Peach State Roofing, Rawlings, Kapp Koncepts and Force3 Pro Gear are the primary sponsors of the Sunbelt League.
National Alliance of College Summer Baseball


The Sunbelt Baseball League is a member of the National Alliance of College Summer Baseball (NACSB). The NACSB is an alliance of non-profit summer collegiate baseball leagues that are each partially funded by Major League Baseball. Members of the NACSB provide a platform for elite college baseball players to compete at a high level. Players are bound by NCAA eligibility and are sent to each member league by their college coach.
NACSB Mission
The NACSB is committed to providing a player focused experience and the highest level of amateur baseball. We strive to provide value to each member's players, the college or university they play for, and the communities in which our members operate.