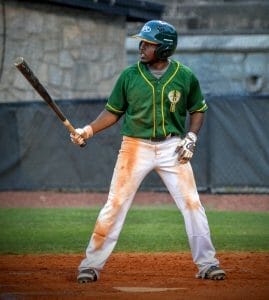 The Brookhaven Bucks (7-7) are halfway through the 28-game Sunbelt Baseball League regular season and in 3rd place in the Sunbelt East Division. The top three teams from each of the two Sunbelt League divisions (East and West) advance to the playoffs. 
Sunbelt League East Division Standings:
Atlanta Crackers (9-5)

Gwinnett Tides (9-5)

Brookhaven Bucks (7-7)
Alpharetta Braves (2-12)
Offensive Statistical Team Leaders:
Batting Average: Rodney Tennie (.469), Undecided

Home Runs: Coleman Poje (4), Georgia Tech

Runs Batted In: Chris Hohlstein (9), Tulane & Will Johnson (9), Georgia State

Runs Scored: Rodney Tennie (13), Undecided

Hits: Chris Hohlstein (16), Tulane

Doubles: Connor Stutts (4), Notre Dame & Chris Hohlstein (4), Tulane

Triples: David Mayo (1), Mount Olive & Connor Stutts (1), Notre Dame

Walks: Coleman Poje (10), Georgia Tech

Stolen Bases: Rodney Tennie (9), Undecided

Hit By Pitch: Will Johnson (3), Georgia State & Rodney Tennie (3), Undecided
Pitching Statistical Team Leaders:
Wins: Will Small (2), Middle Tennessee State

Strike Outs: Jonathan Fleckenstein (20), LaGrange

Earned Run Average*: Liam Henry (2.13), Georgia State

Innings Pitched: Jonathan Fleckenstein (18.1), LaGrange

Saves: Tyler Hughes (1), UNC Asheville
The Bucks start the second half of the season with three straight road games. The first being today, June 30th at 7:15 p.m. vs. the Marietta Patriots at McEachern High School. On Tuesday, July 5th, the Bucks will travel to Glenwood School (Alabama) to play a doubleheader vs. the Phenix City Crawdads. The first game will start at 5:00 p.m.
The Bucks will return home to Oglethorpe University on Wednesday, July 6th to take on the Norcross Astros at 7:15 p.m.
For the complete Bucks schedule, please visit brookhavenbucks.com/schedule. For the latest news about the team, please like the Brookhaven Bucks at facebook.com/brookhavenbucks, follow on Twitter @BrookhavenBucks or on Instagram @Brookhaven.Bucks.
The Brookhaven Bucks are members of the Sunbelt Baseball League, one of the premier collegiate summer wooden-bat leagues in the country.  The Sunbelt League, funded in part by Major League Baseball, has teams in Georgia (Alpharetta, Brookhaven, Carrollton, Marietta, Norcross, Lawrenceville) and Alabama (Phenix City). The Sunbelt League regular season ends July 23rd, with playoffs running from July 25th through August 3rd. For information about the Sunbelt League, please visit www.sunbeltleague.com.
*Earned Run Average – to qualify, pitcher must have pitched at least 11 innings through the Bucks first 14 games. Nick Wise (Presbyterian), Jordan Scott (Liberty), David Mayo (Mount Olive), Will Robertson (Augusta) and Daniel Garrett (LaGrange) have a lower ERA, but each has pitched less than 11 innings.